Why Now is the Perfect Time to Enter the Field of Nursing
A resident of Toledo OH who is seeking a new career might consider becoming a professional nurse. Even in a tough economic climate if a nurse is willing to relocate or take a job in a critical need area, he or she is likely to find a position. For years, nursing has offered job satisfaction and security for compassionate and caring people interested in health care careers. The good news is that the outlook is favorable for persons interested in becoming nurses.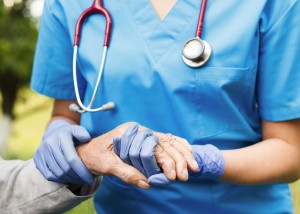 According to the American Association of Colleges of Nursing, the registered nurse workforce is expected to increase from 2.71 million in 2012 to 3.24 million in 2022. There are several reasons why the need for professional nurses is expected to increase. Those reasons include:
1. Turnover that creates opportunities for graduates.
2. The older adult population is increasing.
3. Advanced areas of practice allow nurses to assume some responsibilities
that were previously handled by physicians.
Turnover creates opportunities
There are those nurses who enter the field decide that it is not for them. However, there are other reasons why nurses leave their jobs. Some stop work for a while to raise children. Others return to school for advanced degrees and find jobs in teaching or administration. Nurses also move between work settings. For example, a nurse may start his or her career in a hospital and decide to explore public health or long-term care. Turnover is not a sign of dissatisfaction with the field but often occurs because a nurse is interested in finding the right professional fit.
Increase in the older adult population
Everyone knows that the older adult population is increasing. In watching television it is common to see that advertisers invest millions of dollars into pushing products to help older adults enjoy healthy and satisfying lives. People are living longer due to better nutrition and better medical care. However, as these individuals age there is going to be an increased need for long-term care nurses, home health care nurses and others in the profession who can provide care that will enhance the quality of life of older persons.
New career opportunities through advanced areas of practice
Many nurses go into the profession with an interest in working at an advanced level, aspiring to become nurse practitioners or nurse anesthetists. Others have a strong desire to teach and train nurses. In rural areas where there are a limited number of doctors, advanced practice nurses fill a void that helps limited resource or under served populations get the health care they need.
In consultation with or under the supervision of a doctor, an advanced practice nurse may address several health issues. For example, a nurse-midwife might provide prenatal care at a rural health clinic or a family nurse practitioner may offer routine check-ups and treatment for low complex medical problems. Nurses who work at this level earn a median salary of $96,450 per year, according to the U.S. Bureau of Labor Statistics, and the job outlook is described as better than average.
Opportunities for nurses abound in Toledo OH. Those who are interested in this career should consider earning a degree in the field.
Begin your nursing education at Athena Career Academy today.
Find us online at https://www.athenacareers.edu/, visit us in Toledo, OH at 5203 Airport Highway or in Middleburg Heights, OH at 7285 Old Oak Blvd. (Suite 123) or call us at (419) 329-4075 (Toledo) or (440) 891-7672 (Middleburg Heights).